17 Freelance Writing Niches That Still Pay Big Bucks in 2022
What do clients come to me for?
Of course, some declining specialties also cause a sort of exodus of freelancers from that particular niche, which could put you in a nice place. But when the overall pie is shrinking each year, even a larger slice of pie eventually has an end.
Don't worry about finding a freelance niche too early
If you're still in the very early stages of starting your freelance business, be wary of turning down too much work before you become profitable. This can lead to suffering through the feast/famine cycle and never getting your freelance business off the ground.
You can always change your freelance niche later
Of course, it's better to stay the course as long as possible since your reputation and client list will grow over time in your specific freelance niche. But when you're running your own business, you're in charge. You can always pivot.
There's no such thing as "the wrong freelance niche"
Freelance Writing Niches: 9 High-Paying Content Types
1. Long-form Blog Posts or Ultimate Guides
Plus, there is the opportunity for retainers. Retainers pay you a fixed amount in return for a set amount of blog posts, for example, 800,200 for 4 blog posts per month. As a freelance writer, this gives you a bit of security and stability, always a plus!
2. E-Books
E-books are typically published as PDFs and can be anywhere from 10-20 pages long. Like blog posts, they need to present useful information, such as "how-tos," on topics that interest the company's prospects or customers.
That prospect is then placed in an email sales funnel or will receive the company's newsletter. The hope is that through "nurturing" that lead and forming a relationship, the company can convert that lead into a paying customer.
3. White Papers
White papers tend to be more formal and serious in tone than content like an e-book or blog post. They may contain technical information. They are popular in the technology niche and are usually written for the B2B or business to business market.
White papers present a problem, then explore solutions, one of which will be your client's product or service. They try to persuade readers without crossing the line into sales. They don't directly sell anything. Instead, they assist in the sales process.
4. Case Studies
Case studies pay well because they help drive sales. They provide social proof by showcasing stories of customers' success using the product or service of your client. They demonstrate the transformation a customer experienced.
Case studies may involve interviewing both your client and their customers to get the best information. These are long-form testimonials written in story format. These stories need to be interesting and provide value to the reader.
5. Email Writing
This profitable freelance writing niche sounds easy, but it's challenging to do well. You'll need to create content that can gain readers' attention, in direct competition with all the noise in their email in-box.
You'll need a background in copywriting or at least a solid grasp of copywriting principles and formulas. After all, the primary purpose of email is to sell, but carefully. You need to engage the reader first, before attempting to sell them anything.
"You might be wondering if email is still a worthwhile marketing strategy. In fact, email generates $38 for every 800 spent, which is an astounding 3,800% ROI, making it one of the most effective options available."
Consistently producing newsletters help your clients build a relationship and trust with their subscribers. And since your client will need to communicate regularly, newsletters can be an excellent retainer project.
6. Sales Pages or Landing Pages
Source: Enchanting Copywriting
7. Video Script Writing
"Video is wildly popular, and mobile video consumption increases every year. (…) When you work video into your marketing plans, it should accomplish two main objectives: Sell your products or services in a compelling way, and share your brand story."
8. Online or E-Learning Courses
Online courses and online education is a field that's booming, and so are opportunities for educational content creators. Especially if you have a background in teaching or understand how people learn, this can be an excellent freelance writing gig for you.
9. Book Writing (Ghostwriting)
You help your client get their story, or their ideas, out of their head, and into a book. The books you'd write could range from short e-books to self-published books (like on Amazon), to even traditionally published full-length books (for experienced writers).
You could be hired by either individuals or businesses who need high-quality content written under their names or brands. For example, people such as business executives, business owners, and other professionals who aren't writers and have no interest in writing the books themselves.
These Are the Highly Profitable Writing Niche Services to Try
1. Case Studies
A case study is a summary of a person or businesses that has success based on a product. For example, if your client is in the sleeping aid promoting their Sleep Pillow they may have a case study about how people with sleep apnea sleep better with the Sleep Pillow.
2. Copywriting Sales Pages
3. Course Writing
4. Social Media Writing
In fact, one of the top job skills to put on your resume is understanding Instagram. Whether you do social media writing on Facebook, Tik Tok, Instagram or Twitter, simply having this skill listed as a writing niche will help you gain clients immediately.
5. Product Description for eCommerce
As a writer, you would write product descriptions for eCommerce brands. This would be on their shop page and it's possible to write in a variety of products like beauty, shoes, clothing, home decor and more.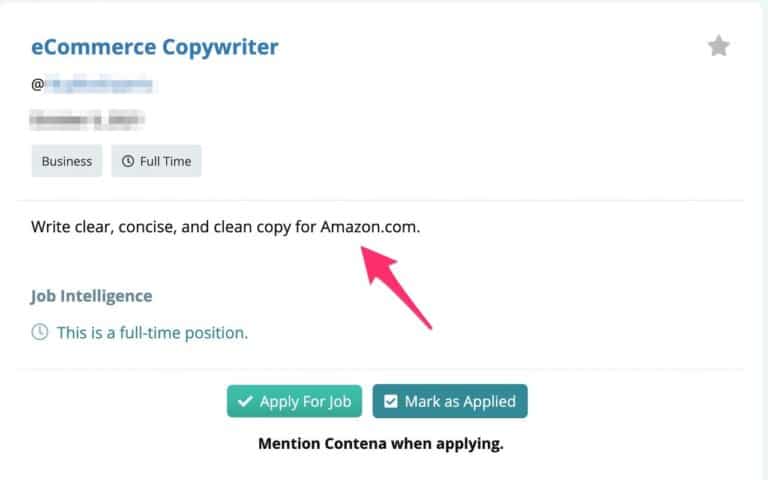 6. Long-form SEO Writing
7. Recipes
When people are home, they cook. As a freelance writer, this writing niche is broad enough that even new freelance writers can get a crack at this niche, but niched down enough that specialized writers could profit.
Who is Hiring Freelance Writers in 2022?
Share this post with your friends!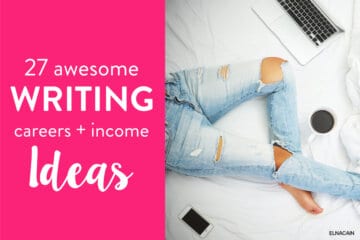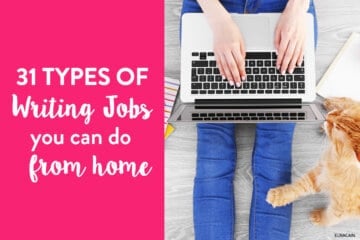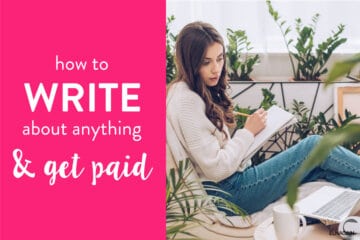 About The Author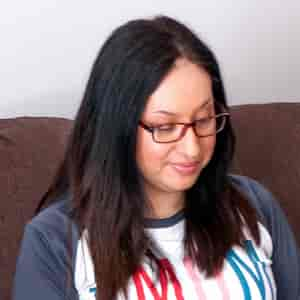 Hi I'm Elna and I'm a freelance writer and mom blogger. I help people just like you become a profitable freelance writer. Within 6 months of starting my freelance writing business from scratch I was able to earn a full-time living as a part-time freelance writer while taking care of my twin toddlers. Check out my free email course Get Paid to Write Online and learn the steps you need to take to be a freelance writer.
Leave a Reply Cancel reply
168 Comments
Hey Elna! Thanks so much for writing this in-depth article. I've been a digital marketer for several years now and I'm looking to focus more on freelance writing. So I found it really helpful to read through your list of niches to get ideas of what I might want to focus on!Reply to Hannah
Hello Elna…. I just wanted to say thank you for this invaluable read. I initially thought you'd mention legal writing buh it seems it's not a profitable niche😔. I would love to venture into the real estate niche, buh you didn't give clear detail there, like topics to start with and ways to go about it 😔…. For my daily hustle as a student maybe taking up the social media manager for businesses will help me. I pray this finds you ma🙏Reply to Miracle
Hi Miracle, Legal writing and real estate writing is very niched and needs credible people. The niches I wrote for this post is for pretty much anybody who is interested in writing for living as a freelancer! I hope that helps with your decision to become a freelance writer.Reply to Elna
Hi Elna, This is great content! I'm a new freelance writer looking to get my foot in the door with some writing gigs but have been very stuck on where to even start. I found a few of your videos on the YouTubes which led me to your written content as well I'm happy to say after just a few videos and articles, my freelance site is up and running on Squarespace and I have a list of niches to start looking into I have been at this for a few months now and have felt super stuck…but it really feels like it's starting to materialize so I just wanted to thank you for what you've created and shared 🙂Reply to Dave
Hi Dave, Thanks so much for watching my Youtube videos and then deciding to check out my blog! I'm happy you want to start freelance writing! I'm here to help and if ever interested, I do have my course Write You Way to Your First 800k that will help you make a living writing!Reply to Elna
Hi Elna, I work in the health and wellness space. I'm interested in writing on that topic which expands beyond just fitness/exercise. I noticed that wasn't a niche on your list. Do you know if health and wellness is a popular topic that could lead to a profitable niche? Or does it need to be more tailored to a health and wellness topic like nutrition, lifestyle, exercise etc.? Thanks!Reply to Janea
Great article, I had an idea of what niches I wanted to write in, but hadn't thought thoroughly whether the business in said industry would have a need for freelancers or even pay for freelance writers. So it's definitely something I will look into before deciding on the niches to focus on. And I also will be looking into the type of writing as a niche (really good points made in your blog re earning potential of writing types) so think I'll select a niche also that focuses on a profitable writing type, that will allow me to write in a variety of subjects based on the writing type.Reply to Caroline
Hi Rashi, Your clients might be brain improvement apps or supplements or brands (like Nootropics supplements). What you have to look at when finding your ideal client is: are there products and services associated with my niche? If so, then it is a niche that can pay for writing.Reply to Elna
Hi Elna, I am so happy I came across your YouTube video which led me to your website. I am beyond impressed with your blog posts and the amount of helpful information you provide is amazing. Up until recently, I was blogging for a website in the financial space as well as another one in real estate. I had been publishing under a moniker for a bunch of posts and now I feel I can't use the posts I wrote. The real estate website was recently sold so I can't go into WordPress and change the author. What are your thoughts? I was recently let go of blogging for this company which is why I started looking to start freelance writing! It seemed like a no Brainer.Reply to Susan
How do I find my freelance writing niche?
How do you go about choosing a niche that interests you and can be profitable? Start by browsing the list of possibilities above and choosing a few niches. Then take the following three steps to identify your niche.
Step 1: Decide if you want to learn more about the niche. Good writers should become subject matter experts in their industry over time. The only way to become an expert is by being curious and staying on top of trends and events.
Step 2: Determine if you can solve the niche's problems. Maybe you have a specialty or training experience that could benefit a particular niche. This would be an excellent way to present new information and help businesses solve their problems.
Step 3: Research if the niche is profitable or not. Run a Google search to learn how popular a particular niche is. Look at different market research reports and how often people search for the topics in your niche. Check how much competition you may have in the space. Remember that competition is a good thing because it signals clients are ready to buy.
Resources:
https://millo.co/how-i-found-my-freelance-niche-and-tips-to-finding-yours
https://smartblogger.com/freelance-writing-niches/
https://elnacain.com/blog/freelance-writing-niches/
https://peakfreelance.com/blog/freelance-writing-niches/